Mark 3:25 "If a house is divided against itself, that house will not be able to stand."
I. Introduction: The Good, the Bad, and the Ugly
This will be my last substantive post about the Hankamess and it will be a long one. (I will open comments but they will still be moderated.)
For those who may not want to wade through everything, the post is divided into three main sections. Section two takes a romp through James White's criticisms of Orthodoxy noting what I think he gets right (The Good). Section three (The Bad) provides analysis and replies to his criticisms of Orthodoxy and sometimes even of Hank. Section four (the Ugly) discusses the role James White and other well-known apologists played in Hank's rise to power.
II. The Good
III. The Bad
IV. The Ugly
After this, I am moving on with my life, as I did nearly thirty years ago. For about the last year, I have chronicled the Hankamess resulting from Hank Hanegraaff's reception into the Orthodox Church. I have also tried to sketch for readers the main points along the Hankamess timeline leading up to that reception, from 1989 forward. For many good and interesting reasons, I haven't been able to present all the information, respond to every argument or tell everyone's story who has been involved in it. I have also made
some mistakes along the way. There are things I could have done better. As to my standing in this whole drama though, honestly, I have always been a very small person, a hobbit of sorts, in a much bigger drama. I have only tried to tell the truth and do what is right regardless of the consequences to me.
In the main, things went as I expected them to, though at one point, God threw me a curve ball I did not expect. Hank has behaved in the way I said he would, shrugging off any calls for the slightest repentance or an apology. He immediately began working his way into the power structures of the Church, presenting himself as a "teacher" to financially benefit his Protestant private business. I know many did not believe me when I laid out this narrative in the beginning, but over a year later, it is frankly now indisputable. I told you so.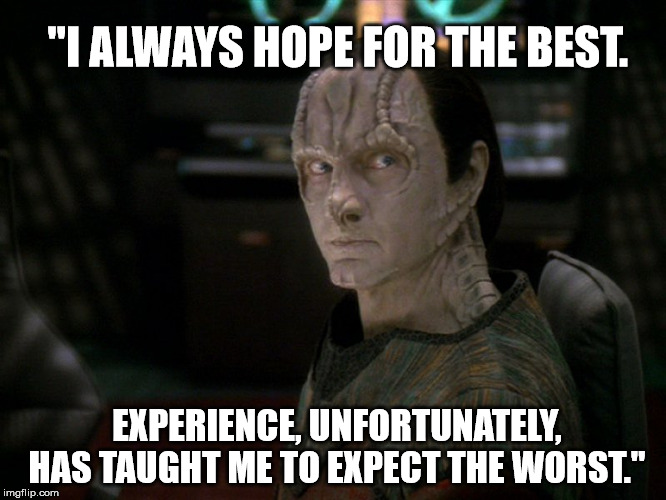 I did not expect Hank to fall to his knees and offer an apology. It wasn't that this was impossible, but given thirty years of consistent lying and graft I judged it to be improbable. There remains a hope, but in the main I hold it as a fool's hope. (He still has my cellphone number and the contact information for many other people.) His repentance for public wrongs would not only benefit his salvation, but his many victims as well, some who unlike me, still suffer serious consequences stretching into eternity. They are part of the reason why I have done what I have. "Many of these trees were my friends."
I've Got A Little List
That said, Hank didn't get to his Benny Hinn lifestyle all by himself. He had help and lots of it. And he had help from people who not only should have known better but I believe did know better. They were, for a very long time in a position to do what was right. The majority of them self-designate as apologists and make their livelihood based on claims of expertise to evaluate arguments and evidence and discern truth from error. It's their job to point out fakes and sound the alarm. They are well known and some pride themselves on defending the "purity of the Gospel." But instead of doing the very least that was morally required, they chose rather to ingratiate themselves with Hanegraaff for their own personal profit. And they did so all the while their brothers and sisters in Christ were losing their jobs, losing their homes, dying of cancer or having a crisis of faith to the point of denying Christ Himself. In what follows, I name names and bring out the role they played in the past. What they did in the past was wrong and their attempt to profit from that deception now, is also wrong.
Now, after Hank's reception into the Orthodox Church they have broken out in a few different directions. Some continue to ingratiate themselves with Hank to promote their products. Others have tried to occupy a no man's land between where their theological commitments are and where their financial interests lie. They're Protestant and critique Catholic and Orthodox beliefs and practices, except when its Hank. Others by contrast have positioned themselves as the de facto and true "Bible Answer Man" decrying Hank's lapse into heresy, offering critiques of Orthodoxy along the way. Chief among these is James White, famed Reformed Baptist apologist and debater.
Over the course of the last year or so, James White (and some of his ministerial associates at "Alpha and Omega Ministries") has offered a series of videos criticizing Orthodoxy and Hank Hanegraaff. Here I place them in temporal order (One, Two, Three, Four,  Five, and Six. )In the interests of time and labor, I don't index remarks by White (and others), but the video links provided are I believe sufficient.